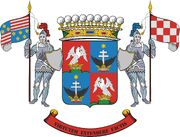 The House of Cseszneky (pronounced [tʃɛsnɛki]) was one of the most prominent noble families in the Kingdom of Hungary. The Counts Cseszneky de Milvány et Csesznek have produced many individuals notable in Hungarian and general European history and culture.
Ad blocker interference detected!
Wikia is a free-to-use site that makes money from advertising. We have a modified experience for viewers using ad blockers

Wikia is not accessible if you've made further modifications. Remove the custom ad blocker rule(s) and the page will load as expected.